Take a sneak peek in our creative process
We live in a world where our brain processes millions of pictures and information during one day. The huge amount of content everywhere around us changes rapidly. The main question is whether we remember any of it? Do you remember that ad on Instagram? Do you remember the billboard you saw yesterday?
So from a marketing point of view we come to a very important issue. If it didn't catch your attention, then you probably won't remember it.
We as marketers need to create memorable content if our aim is to make an impact on the customer, or let's say "catch his eye".
There are so many benefits when you hire a social media marketing company because we already know the tips and tricks to make one awesome campaign. We will work on creative graphic design solutions and concentrate on social media, and how we at Genera do the designing process. Let's check out our tips and tricks.
First and foremost, we need to set our goals! Do you as a company want traffic? Sales? Setting up the goal will be crucial for the creation of social media content. We need to be sure the social media content will give us results by knowing exactly what we want to get out of it.
The most common strategy is using marketing to gather leads and prospects that later will be converted into customers. But there are also situations where some businesses want to raise brand awareness or increase the lifetime value of their customers.
With a clear vision of the goal we want to accomplish, we will have guidance and direction in creating the content and also insight on how it spreads across the social web.
We start with a few questions that will help us set our goals. What will be the purpose of the future posts? Do we want to increase traffic to the website? Are we trying to drive up the sales? Do we want more engagements on our page? After these questions, we turn to the target audience. What is our buyer persona, do our competitors have the ideal target audience? What are the platforms that our audience uses? Mobile/Desktop? How do we want them to feel?
After we figure out the target audience and the purpose of our post, the goal will be clear. It will be the core, and every next step will revolve around it.
In order to make a rememberable and successful design we have to be careful when choosing the color. The color is maybe the most important aspect of any design. It will bring out the mood and create an atmosphere. Every color has a meaning and psychological background. For example, yellow is optimistic and warm, red is exciting and bold, green is peaceful and healthy while blue is strong and dependable.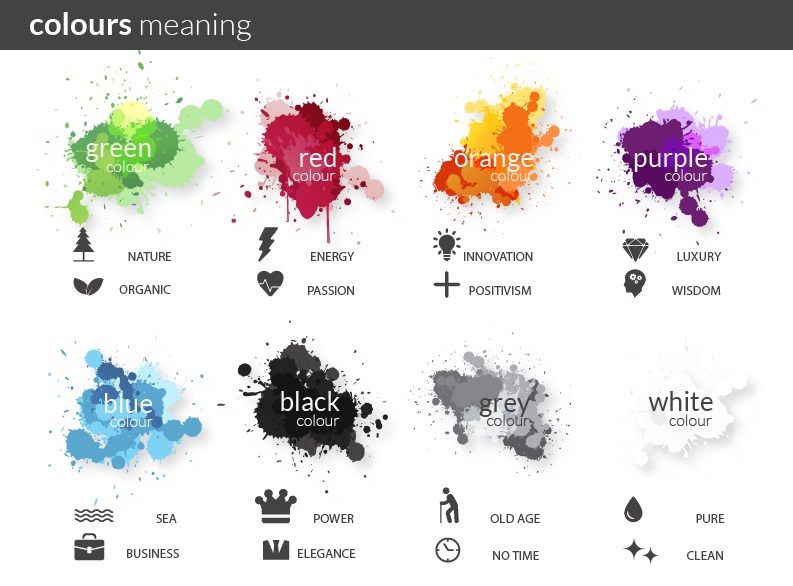 The colors of the design will reflect the brand. In our opinion each design needs to have 3 colors max. When we choose the colors having in mind the mood and atmosphere, we also have to pay attention to the balance and contrast of the colors. The chosen colors will be used for all the designs and will affect people's reactions and emotions to the design.
When we create the text we need to remember that while we want to tell the potential customer everything, we also need to be very careful not to overcrowd the design. For example, Facebook has a policy where it doesn't allow your ad to have an image that has more than 20% text. Our tip is when you are creating a design use a few powerful words and try and limit the text to one or two lines. We need to create a content that will deliver the message simply and will be very easy to read. The typography and the text size might not seem important but they play a key role in the design. We need to keep it clear and simple. We suggest mixing not more than 2 fonts and keeping the text size bigger and easy to read so it can deliver the message instantly. The font has many characteristics and It has an impact on the customers emotion and mood. There are millions of different fonts but we can divide them into 2 major groups so we can choose the best fit.
Serif fonts are the best choice for print and the web always uses sans-serif fonts. When we choose what 2 fonts we will use we need to keep in mind that they need to be balanced while also eye catching.
Other tricks that we can include while creating the design is negative space. Negative space is an awesome way to have contrast in your design and be absolutely sure that the customer will notice it. It can be created with colors, with alignment and font and will sure contribute for the design to stand out.
When creating more than a few designs in order to focus on the brand identity we suggest incorporating branding. Seeing something more than 5 times is what it takes for somebody to recognize it or become familiar with it. Repetition and consistency of the brand elements in the design is a must. The social media designs you post need to have consistency so they can feel connected so the customer understands the message. The audience can be confused with random content and will not be able to understand the brand and the message you want to broadcast. The designs need to have different sizes in correlation with the platform you will use. A post for Facebook can not be posted on Instagram. Therefore, when designing you need to create the general design and afterwards make modifications for each platform that will be used. Once you set up the layout for the specific platform you can create a layout that you will use in the future posts and the audience will be able to tell the graphic is related to your brand.
Choosing the right platforms for your content! Here we go back to the top, what is our goal and who is our audience. Each platform has its own characteristics.
Creativity is not the last and least important, it is the cherry on the top. It is all around us and you can withdraw it from every corner around you. Being creative will help your brand to stand out. Even though you want to promote your product or service online, remember that social media platforms are used for entertainment as well. The customers you want to reach get on social media so they can have a break from the real world and zone out, therefore you can give them fun content like quotes while you play with fonts and shape, infographics are a cool solution for boring data, themed posts like motivation Monday and Throwback Thursday and some awesome photographs. Think outside the box, be bold, and remember...Always keep it SIMPLE!